This is the big 'un. Well, one of the big ones.
Let's start with women's suiting. Why, you ask? Because McQueen.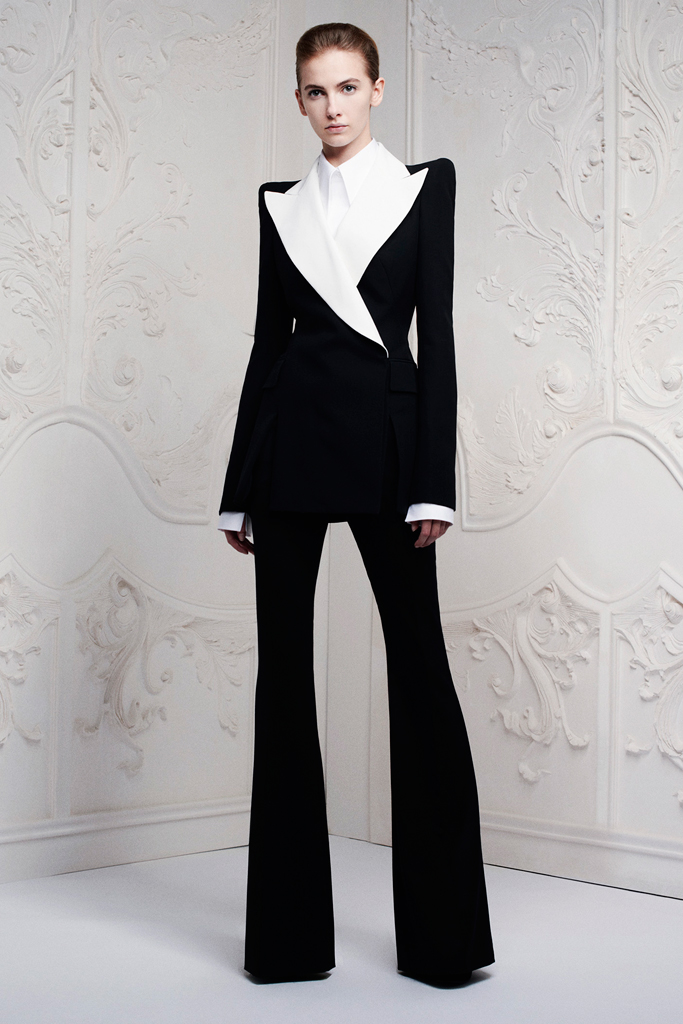 Just take a moment to revel in the wonder of workmanship that is anything McQueen. I cried when that man died. I cried not out of frivolity or an overdone sense of empathy, but rather for the loss to the world of art, true style, and expression. He had a gift for telling a story through his work, of emoting the soul of his philosophy in textile form. His book resides on my coffee table, and every time I leave guests unattended in my home, inevitably I will find them poring over the pages delighting in the sheer depth and breadth of his artistry.
While McQueen always had a flair for the dramatic and colorful, I found the most pleasure in his highly constructed and contoured pieces, which were most often black and white. The house has continued in this vein and does nothing less than impress. The clothes, flawless and clean-lined, speak for themselves.
————————
Next, you'll find another Alexander. Behold the mother of all badasses, Alexander Wang.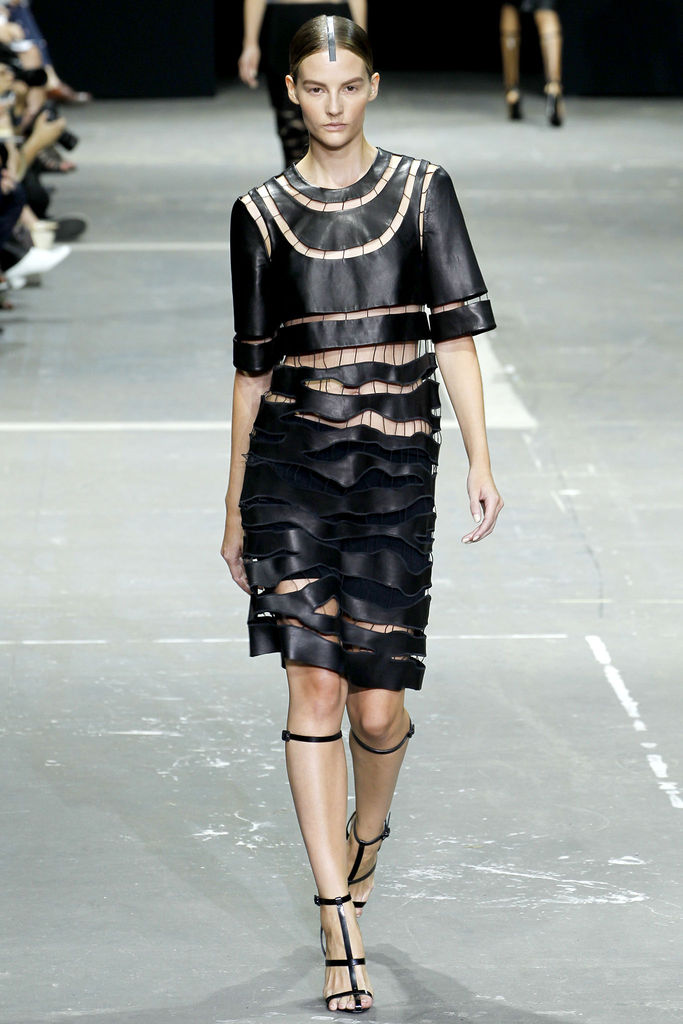 When I first laid eyes on this piece, I thought Wang must have been smoking something – something pretty good by the looks of it. The dress reminds me of geographic striation; sedimentary layers of leather, skin, and string. I suddenly have a strong archeological urge to go excavate something. Anyone have a bejeweled shovel I can borrow?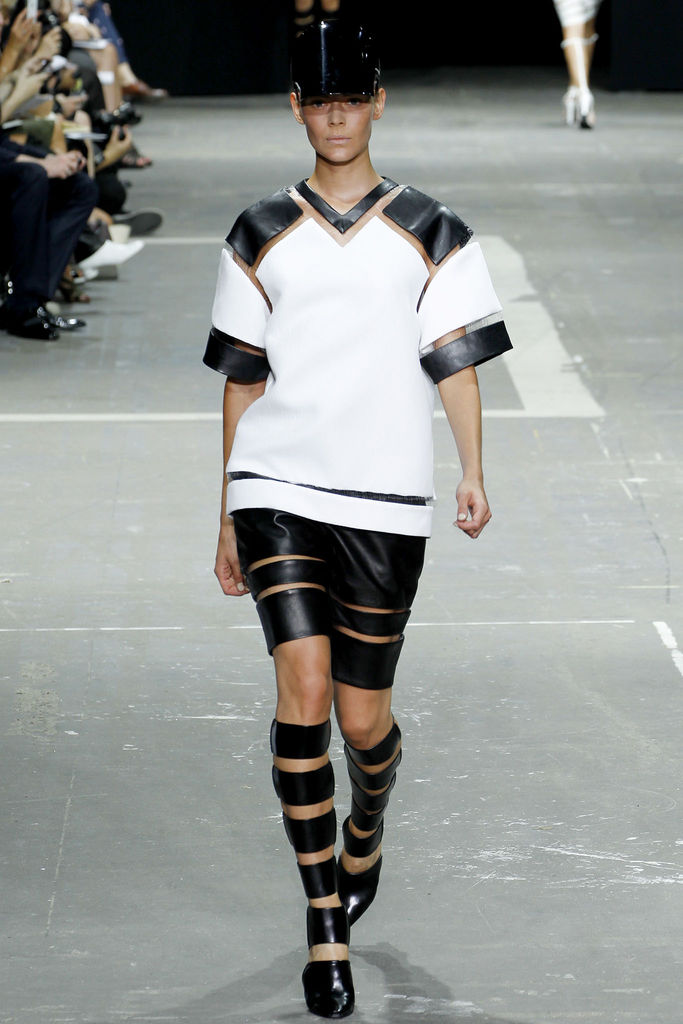 Sporty! If tennis looked like this I would totally watch. Or does it look vaguely equestrian…? Wait, no, you need pants for that. Also boots. ANYWAY, I think jerseys should in some fashion resemble this ensemble. Perhaps Wang can supply the Olympic team their attire for the next games instead of Ralph Lauren. Pop your cap to that and salute.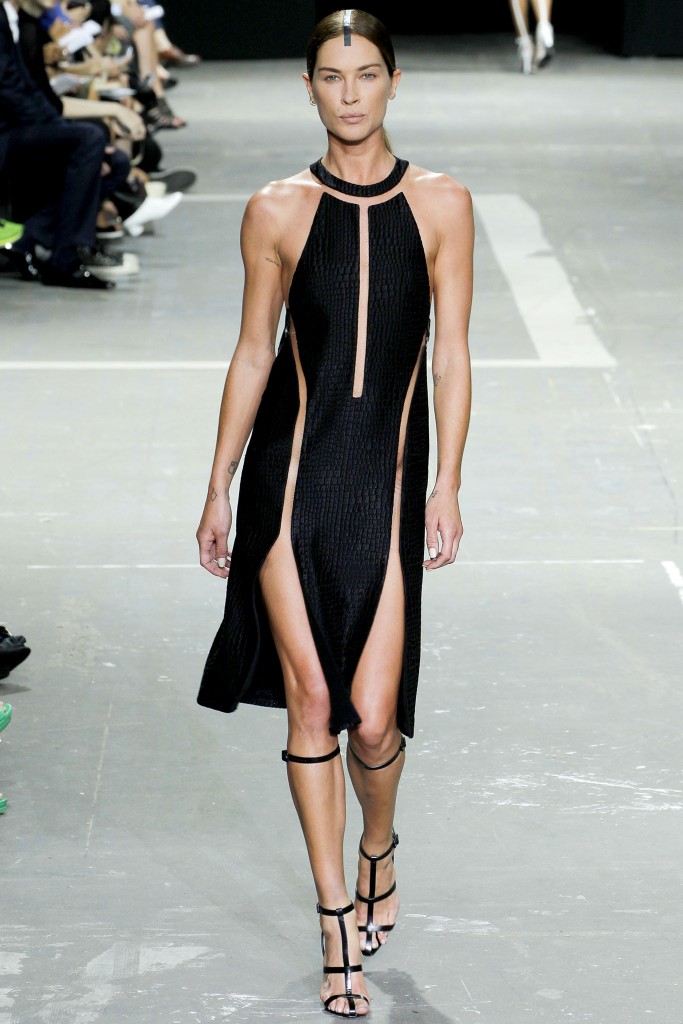 This svelte dress is seemingly held together by boob tape and magic. That model has to be wearing pasties. WELP, better go buy a pair or start duct taping myself a la Carrie Fisher in Star Wars, because "There's no jiggling in the Empire!"
————————
We've gone from Alexander to Alexander, now on to another Wang! My dearly beloved Vera Wang is a personal go-to for drape-y silhouettes, a lovely feel next to your skin, and a lush color palette. I was quite surprised to see a lovely bit of form in her moveable line.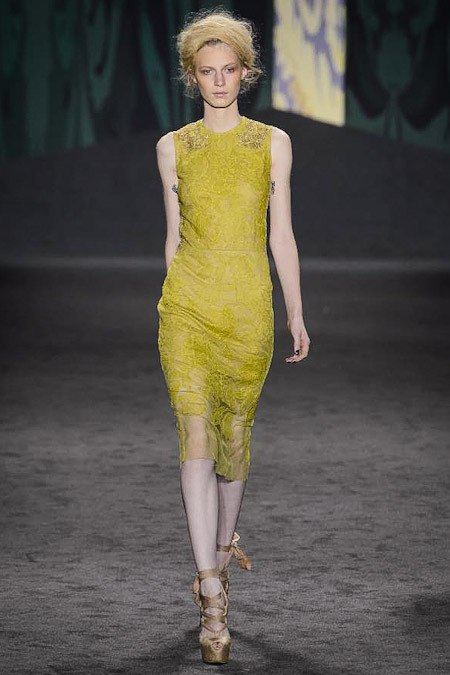 My favorite color is green, and when I laid eyes upon this photo I started bouncing up and down singing "GREEN greengreengreengreen green!" It is lacy and pretty and feminine and sexy and romantic and other adjectives. There's give in the hips, lace on the knees, and a bit of fancy detailing on the shoulders. Also, those shoes are flipping hot. That is some ballerina-on-crack ribbon. Yuss.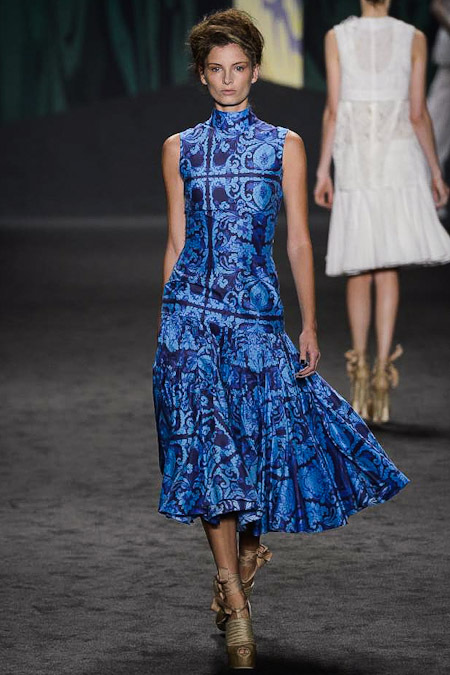 I feel like Vera took a picture of some elaborate Victorian wallpaper and slapped it on this frock in alien blue. I am so okay with that. This shade of azule is not often seen in such proportions, and is instead relegated to a pop of color in the guise of a handbag, scarf, or chunky necklace. This, this here is some commitment to a color.
————————
I'll leave you on another green note. I've only recently been exposed to Behnaz Sarafpour, but I like her take on whimsical. I wasn't a fan of her whole collection, but this outfit was strangely sweet and seductive at the same time. It has a sort of Downton Abbey feel to it, only much more risque.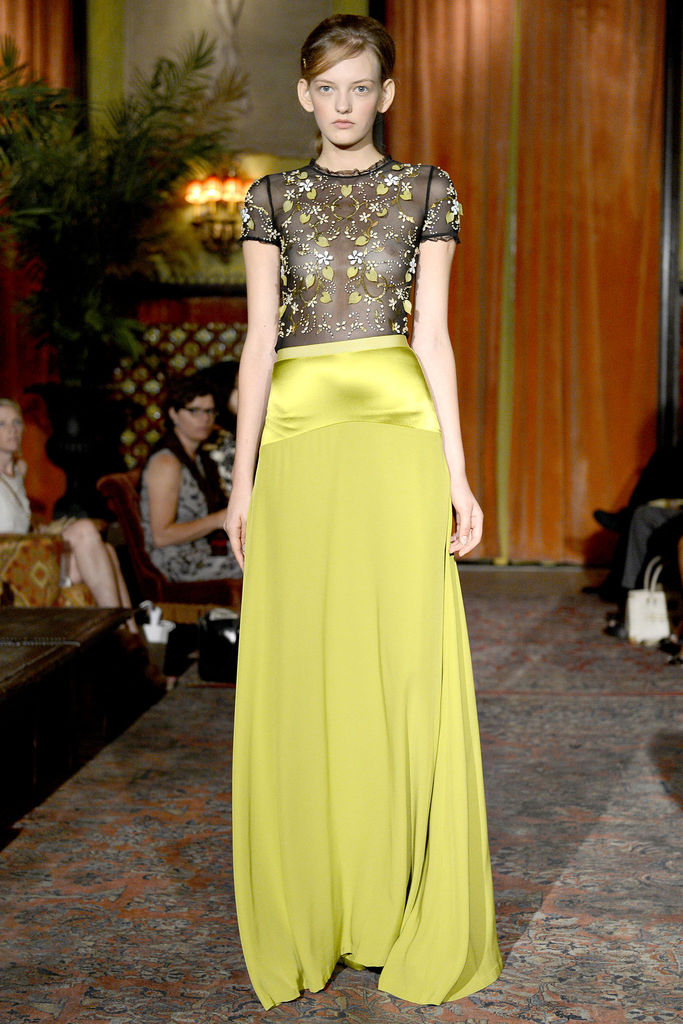 That's it for today, loves. More NYFW tomorrow. I still need to slog through all the runway pictures. Me = Trolling the internet for pretty shit so you don't have to.
(All pictures via Style.com)